If you're not measuring, you're guessing.
The reports show crucial (and interesting) stats:
Were they new visitors or returning?
Where did they click through from (referral source)?
What search terms did they use to find you (if searched) and on what search engine?
What device did they use? (mobile, tablet or desktop)
What pages were interesting? (entrance & exit pages)
Where are they located?
Did they call (optional-with call detail)?
This info is leveraged into actions.
The info feeds to your iPad…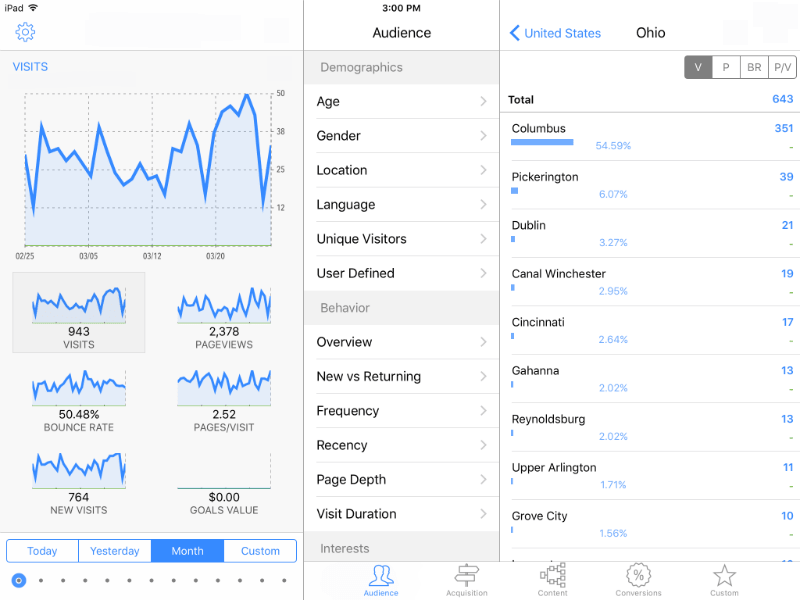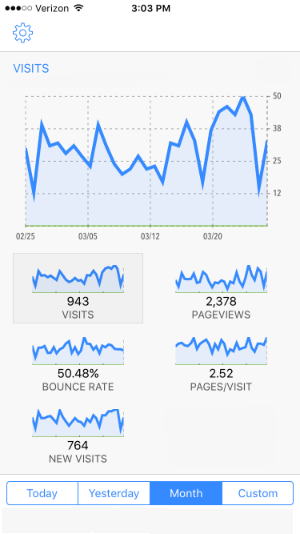 Phone call tracking (optional)
Phone calls convert to revenue 10 times more than web leads. Clicks & impressions, despite a decade of media adoration, aren't as highly valued by many businesses as a ringing phone. Call tracking can pinpoint which ads, search keywords, content & campaigns generate calls, opportunities and revenue (and which aren't ).
We can insert unique, trackable phone numbers in your marketing to add visibility into "what happened next" and identify the most fruitful channels of your marketing. Studying this information, we can direct marketing dollars to the channel that is generating the highest quality leads per dollar invested.
Call tracking data reports will be auto-emailed each month for easy cross-reference. How many calls became new clients?​
Value of Lead Sources (small to med business)*
Phone Call

66%

66%

Online Forms

58.2%

58.2%

In-Person

54.1%

54.1%

Email

43.7%

43.7%
BIA/Kelsey's Local Commerce Monitor™ (LCM) study of consumer media consumption habits reports 66% of small to medium-sized businesses (SMBs) rate phone calls as a good or excellent source of leads, followed by online forms (58.2%), in-person (54.1%) and email (43.7%).