At the time of writing this article, Google is the dominant search engine, owning 88% of the search engine market share. Seeking the Holy Grail of new clients, marketers and businesses invest huge amounts of time and money "optimizing" their websites to appear in the elusive first page results for Google searches.
Why eat the table scraps from Google search when you can feast on the abundance provided by other search engines?
Prominent non-Google search engines such as Bing, Yahoo!, MSN, DuckDuckGo and Ecosia, present opportunities for brands to generate organic traffic.
Before placing all of your eggs in the Google basket, consider these insights:
Not all platforms rank the same.
What Google deems important in ranking a website in organic search differs from other search engines.
For example, Bing is the second most visited search engine after Google. Compared to Google's complex site ranking guidelines, Bing uses less invasive organic search ranking factors, such as keywords in headings, page titles, descriptions, and social media presence.
According to statista.com, Microsoft's Windows is the most widely used computer operating system globally, accounting for a 70.68% share of the desktop, tablet, and console OS market in August 2022. Windows comes preloaded with Bing as the default search engine. If you're searching from your work computer, you are likely using Bing.
Another Microsoft-owned property is MSN. It has tons of compelling content and hundreds of millions of users.
Yahoo! is the most popular search engine for users aged 65 and older. Brands that target older audiences may earn better results on Yahoo. Yahoo mail has 227M users.
Restaurants and retailers may want to prioritize Yelp, which has 92M unique visitors monthly who turn to the platform for food and shopping recommendations.
Privacy first has its place.
DuckDuckGo has become an increasingly popular search engine on mobile devices in the U.S., owning 2.45% of the search engine market share. DuckDuckGo values "no tracking, no ad targeting, just searching." Anonymity is very appealing to a growing number of searchers.
Ecosia, just like DuckDuckGo, is also one of the most privacy-friendly alternative search engines that's growing in popularity. It uses Bing to power its results, so the same rules apply for Bing search engine optimization.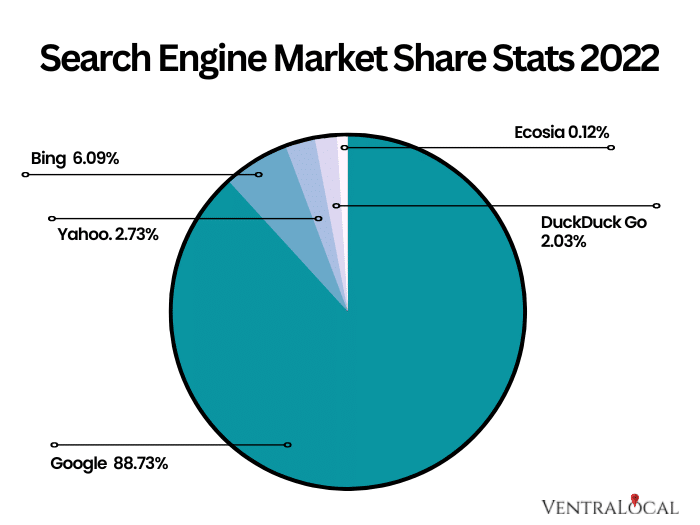 Diversify to succeed.
Each platform rewards SEO tactics such as consistent business information, fresh positive reviews, and producing original and relevant content.
Understanding audience behavior empowers your brand to optimize for the search engine that reaches your target audience. Drop your line in the water where the fish are biting.
Awareness of the ins and outs of multiple search engines and utilizing this knowledge will give your business the advantage to rank beyond Google's reach.
A successful marketing strategy will prioritize the platforms that support your goals and provide the best results for your industry and brand. Give us a call. We can help.