Let's say a potential patient, we'll call him Steve, is in the market for a new doctor. What does he do? Many people will begin by searching a simple query like "doctor near me" or "primary care physician in…" which can yield tons of results, and for the most part, people won't look past the first page.
So, if you're a healthcare provider, you want Steve to find you and choose you, so ranking high on search engines should be a priority if you want to increase your website traffic and the number of new patients. This is why SEO (search engine optimization) is going to be one of your most important tools when it comes to marketing.
Let's go over some of the best tactics for healthcare SEO, so that you can start moving up the SERP and appeal to more potential patients. It's important to remember that SEO is a continuous process and will require a long-term commitment to ensure consistent results, but by following these tips, you can get started and then work to build out a long-term SEO strategy for your healthcare facility.
Top 3 Tips for Healthcare SEO
1. Choose Keywords Wisely: Think about how people are searching. In today's day and age, most internet users don't type complete thoughts. Instead, they search how they talk, meaning they may ask questions or use location modifiers like "near me". Nearly 46% of searches are voice searches dictated to devices like Siri, Google Home, Cortana, or Alexa.
Be sure to do your research about which keywords your competitors are ranking for and also determine which keywords generate the greatest search volume. For example, if Steve is searching for a doctor for his 4 year old son, he's more likely to search "pediatrician near me" versus "doctor near me". Also, if he wants a pediatrician closer to his home, he may search by his town name, as opposed to the city. All of these are important factors when considering the content on your site.
2. Optimize Your Meta-tags: The keywords that you focus on for your specific healthcare facility should be present throughout the content you write for your website and other platforms. In addition, the keywords should be in your title tags and meta descriptions, since these are what users see in search engine results. For instance, if I conduct the same search as Steve, "pediatrician in Columbus OH," I can see that each result has a title tag and meta description, all of which will contain the words "Columbus" and "Pediatrician" or some variable in the meta title.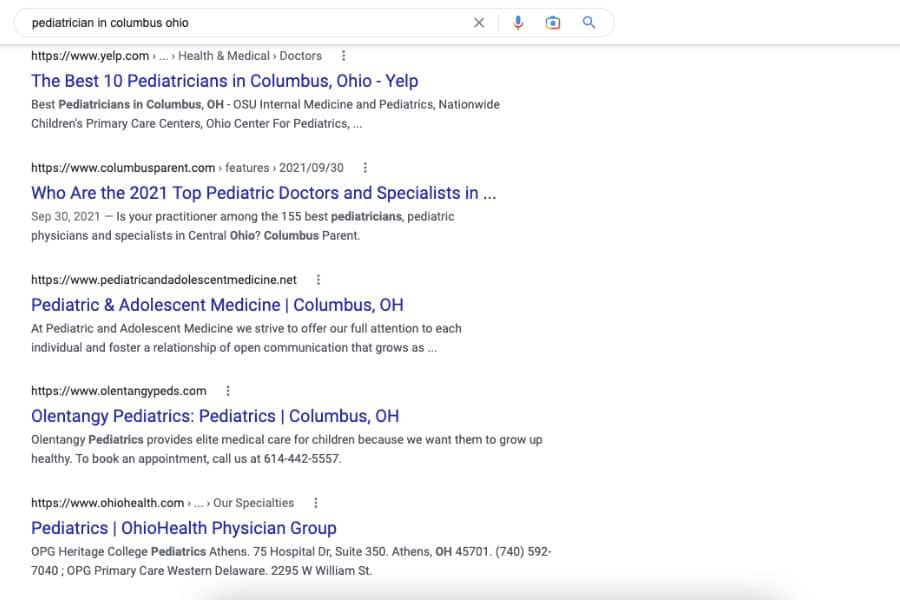 Also, it's crucial to keep in mind the character limits. Titles should typically be 65 characters or less, and descriptions should be under 150 characters. However, you want to make sure that your titles and descriptions are long enough to convey the important information.
These might seem like small details, but they really make a difference to the user in terms of experience and ease of acquiring the information they need.
3. Create Unique Content: It's important to post content regularly to promote your website. There are multiple platforms for promoting content including blogs and social media. When you are developing content, you want to make sure that you're writing about topics that users are actually searching for. This requires some research, similar to when you were searching for keywords. The most important thing is to make sure your content is original – not AI written – not copied and "repurposed". Plagiarism can hurt your SEO efforts.
This takes time, a lot of research, and consistency. We know as a healthcare provider, you may not have the time needed to dedicate to growing your practice. That's where we come in. Give us a call. We can help.