Q: "Hey Google. How popular is voice search?"
A: 20% of searches from the Google app are done by voice.
Who hasn't used some form of voice search recently? Whether you want turn-by-turn driving directions, the nearest coffee shop, store hours for your doctor's office, or the year that the original Jurassic Park (awesome) was released.
The popularity of local voice search is here – and that's where your business should be. Voice search comes in many forms these days as megacorporations battle for dominance; Apple Siri, Amazon Alexa, Google Assistant, and Microsoft Cortana are the big players wanting to "improve your life" through touch-free convenience.
I visited a foodie friend to validate his claim of preparing the most delicious tomahawk steak ever prepared by man (ha). While it was a fine steak, his new "smart fridge" stole my attention. A tinted glass touch panel screen keeps track of the groceries stored within its cold embrace. He laughed and said " watch this". With a voice command, his order was placed and I envisioned the grocery elves frantically putting together his order of freshness.
While you are probably not in the grocery business, nor want to be, this clearly illustrates that we are still on the upside of adoption as consumers. If I can speak to order broccoli, why wouldn't I also find a new chiropractor, daycare, or HVAC repair company using some sort of voice search?
So, who holds the highest share in voice search devices?
For the little hockey puck or coffee can-shaped home speaker market; Amazon's Alexa holds a 70% market share, followed by Google Home with a 25% share and Apple with a 5% share, according to Consumer Intelligence Research Partners (CIRP).
When all voice-enabled devices are taken into account, mobile phones have a far larger market share. According to a recent Microsoft survey, Google Assistant and Apple Siri each hold a 36% market share for voice assistants. Amazon Alexa is third with 25% and finally, Microsoft Cortana is last with 19%.
When searching for local businesses, the most popular devices for voice search are smartphones, then desktops/laptops and tablets. Smart speakers are the least used for local business searches. *Bright Local Study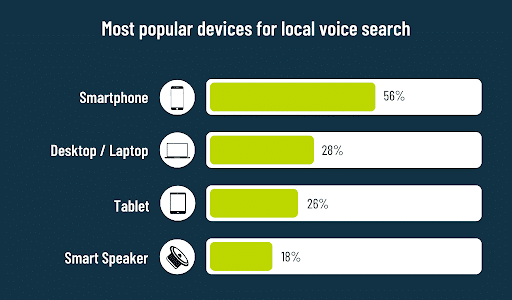 When these consumers are searching, does your business show up?
Nerd Stats: There are 3 types of local voice searches:
Voices search queries can be broken into three different types: Discovery, Direct and Knowledge.
A discovery voice search is for a local provider: "What are the best pizzerias near me?" or "Find an electrician in Dublin Ohio.", or "Top rated estate lawyer in Columbus?"
A direct command requests information or contact such as "call Thomas Marchese Law" or "Make a reservation at Marcella's Restaurant for 8 o'clock tonight party of three", or "Driving directions to the Conservatory of Piano in Worthington", or "Call mom".
A knowledge search example is "Who did that ridiculous song called Gangnam Style?", or "Where can I mine crystals in Ohio?", or "How old is Mitch McConnel?".
As a local business operator, you can see the value in having your business earn the top response from these devices. You just need to produce the data that will provide the solution.
Four business listings you must claim and optimize for local voice search:
Now you're optimized for local voice search!
After submitting and optimizing your Google Business Profile, Apple Maps Connect, Bing Places, and Yelp business listings, you will be in a great position to appear in both discovery search and direct/branded voice search.
Here at VentraLocal Digital Marketing, we include a Local Voice Search Optimization service with every client at no additional cost.